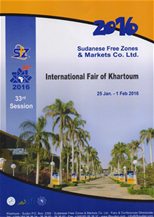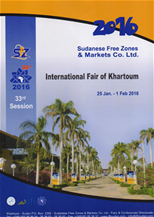 The 33rd session of the International Fair of Khartoum will take place throughout the period of 25th Jan. – 1st February 2016 at the Fair ground in Khartoum, Sudan. The International Fair of Khartoum is considered as the largest general trade fair in the region, in terms of regular annual organizing and thus it is one of the most important windows of trade exchange and promotion between Sudan and great numbers of Arab, African, European and Latin American countries.
Your participation in this Fair will have a positive impact in the fields of investment, industrial, agricultural, commercial and services sectors.
For more information, please see the related documents.