This is area for subscribers only. Become a member
Benefits of members
The Chamber's members benefit from a wide range of services including:
• Trade and business missions to the Arab world
• Bilateral business networking events
• Information about business opportunities in Greece and the Arab countries
• International Co-Funded Projects expertise
• Statistical data and information on the Arab world economies
• Commercial reports on trade activities
• Document Translation. (Greek and Arabic language)
• Legalization of trade documents
• Arabic language courses
Becoming a member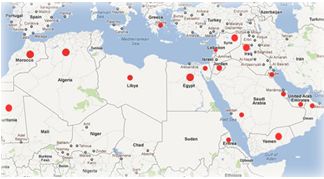 Accessing the fast growing Arab World with a total population of 350 million requires a knowledgeable and experienced partner.
Such is the Arab Hellenic Chamber of Commerce and Development, facilitating Greek businesses' reach to all 22 Arab countries and assisting their efforts to promote their products in the Arab world.
Working closely with the Union of Arab Chambers, the Arab Hellenic Chamber of Commerce and Development can effectively facilitate its members' access to Arab markets. It helps them to expand their business operations by interlinking hundreds of Chambers across the Arab World and millions of their registered professional business members.