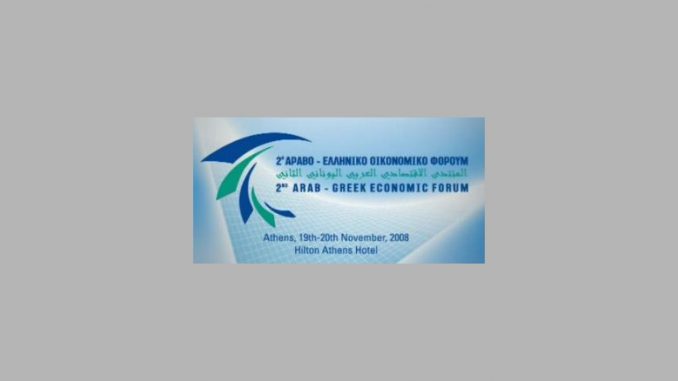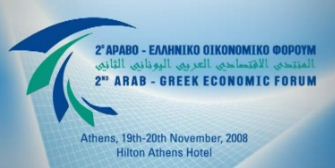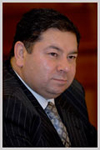 Ιmad Shehab
Secretary General of the General Union of Chambers
of Commerce, Industry & Agrculture for Arab Countries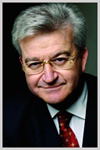 Christos Folias
Minister of Development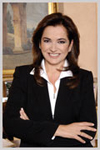 Dora Bakogianni
Minister of Foreign Affairs
of the Arab Hellenic Chamber  of Commerce & Development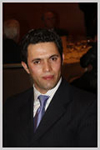 Mohamed Elkhazmi
Secretary General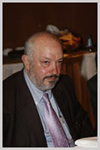 George Karabatos
 President
Welcome to the 2nd Arab – Greek Economic Forum
Within the framework of the activities of the Arab-Hellenic Chamber, we would like to inform
you that the 2nd Arab-Hellenic Economic Forum will be taking place on 19-20/11/08,at the Hilton Athens Hotel with the aim of developing and promoting the financial relations between Greece and the Arab World, which have shown a significant progress, especially on the economic and political level, following the successful organisation of the 1st Arab-Hellenic Economic Forum on 14-15/09/06.
Theme of the 2nd Arab Greek Economic Forum : One World: Partnership & Investment
Opportunities for a Promising Future.
Thematic Units:
– Current reality and future horizons for the economic and commercial relations between Greece and the Arab world: what are the obstacles and difficulties for further growth.
– Presentation of the Arab economy and business environment through various investment and trade opportunities.
–  Presentation of the Greek economy and its prospects, due to its geographical, historical and cultural position, which is considered a "bridge" to the European Union and the Balkans for the Arab world.
– Discussion and thematic analysis of the following sectors:
Transport, Transfer of Technology & Know-How, Telecommunications & ΙΤ, Financial Services, Investments & Joint Ventures, Energy & Renewable Energy Sources, Tourism, Constructions and the Health Sector.
What is "The Forum Exhibition"
It is staged within the Forum venue itself at the prestigious Athens, Hilton Hotel. Over two days it is open to access free of charge to all delegates and members of public. The last Forum Exhibition had over 3,000 visitors pass through its doors and this time round we are anticipating reaching the 4,000 mark.
Strategically placed between the main conference room seating 650 delegates and the Business2Business suite that is planned to host up to 300 private B2B meetings, the Exhibition is sure to see much traffic and interest in all kiosks.
Presented in Partnership with Acumenisys, the Forum Exhibition is sure to bring dividends to those wishing to present their products, services or organisations to a valuable and growing marketplace of 22 Arab nations.
All exhibitors will be listed in the Exhibition guide to be released 5 days before the Forum begins and advertising pages are offered to exhibitors at greatly discounted rates.
The Arab Greek Economic Forum Exhibition touches a specific and important market and that is why we are limited to 36 kiosks of various sizes only. If you are keen to learn more about this exhibition or the Forum itself, you should logon to the websites shown in this media pack.