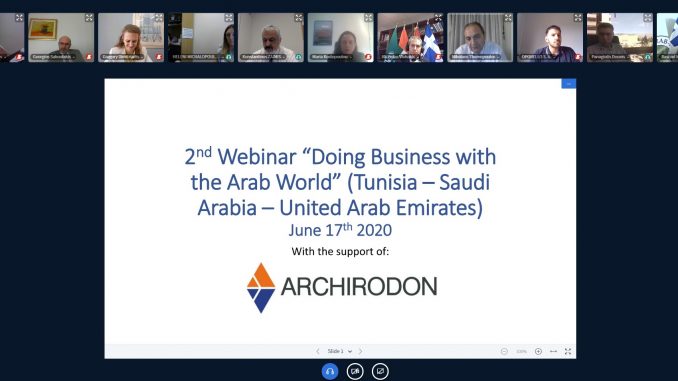 On June 17th, the second webinar of our Chamber's "Doing Business with the Arab World" series concluded its works with more than 90 online participants. The guest of honour of this online seminar was Mr. Grigoris Dimitriadis, Secretary General for Extroversion at the Ministry of Foreign Affairs of Greece and President of Enterprise Greece. Introductory remarks were made by Harris Geronikolas, Chairman of the Board of Directors, and Rashad Mabger, Secretary General of our Chamber.
Mr. Nicholaos Vlahakis, CEO of NEOKEM, and Board Member of our Chamber, was once again the moderator of the webinar, who introduced the three speakers, Heads of the Offices for Economic and Commercial Affairs at the Embassies of Greece: Mr. Georgios Sakoufakis, in Tunisia, Mr. Nikolaos Thomopoulos, in Saudi Arabia, and Mrs. Maria Kostopoulou, in the United Arab Emirates. The speakers presented the markets of the respective countries, the impact of COVID-19 on their economies, outlined the sectors for Greek businesses to increase their trade volume with these countries and tackled other information relevant to the issues.
This webinar was attended by representatives of the Tunisian, Saudi Arabian and UAE Embassies in Athens as well as the Director of the B03 Directorate of the Greek Ministry of Foreign Affairs, Mrs. Eleni Michalopoulou.
Based on the feedback we received during and immediately after the session, we are pleased by the comments and the positive remarks of the participating companies as well as the professionalism of the three presenters.
We would like to thank ARCHIRODON, the supporter of our event, and we look forward to seeing you all again in the third webinar, presenting the markets of Algeria, Lebanon and Oman.
Supporter: