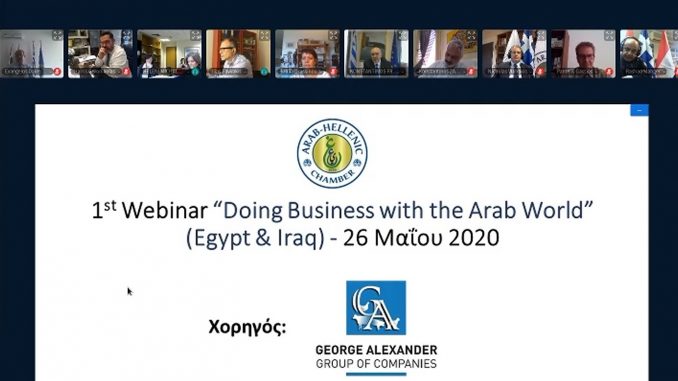 It is with great success that the first webinar organized by the Arab- Hellenic Chamber on 26th May 2020 entitled "Doing Business with the Arab world" (Egypt & Iraq), concluded its works, with the participation of 57 Greek companies. The guest of honour of this online seminar was Mr. Konstantinos Fragogiannis, Deputy Minister for Economic Diplomacy and Openness, Ministry of Foreign Affairs, introduced by Mr. Harris Geronikolas, Chairman of the Board of Directors, and Mr. Rashad Mabger, Secretary General of our Chamber. The presentation of the Arab markets were made by the Greek Commercial Attachés in Egypt, Mr. Pantelis Gassios, and in Erbil/Iraq and Mr. Evangelos Dairetzis, with Mr. Nicholaos Vlahakis, CEO of NEOKEM, and Board Member of our Chamber, as the moderator/commentator of the discussion.
During this event, there was useful and constructive exchange of ideas and information as well as a rich and extensive questions and answers session between the participating companies with the presenters. The event was attended (online) by H.E. Mr. Leonidas Contovounesios, Ambassador of Greece in Iraq, H.E. Mrs. Eleni Michalopoulou, Ambassador and Director of B3 Directorate for Economic Relations with N. African, Middle Eastern and Gulf countries, as well representatives of the Embassies of Egypt, Iraq and Algeria in Greece.
We, at the Arab-Hellenic Chamber, pride ourselves with the overwhelming participation by Greek companies in this event and the positive feedback and notes we received from them, testifying the success of this online seminar.
We would like to seize this opportunity to thank our sponsor, GEORGE ALEXANDER Group of Companies and we look forward to our second webinar which will include, this time, Tunisia, Saudi Arabia and the United Arab Emirates.
This webinar falls first in line of a series of online events which aim at taking advantage of the period that mass gatherings are not allowed due to the worldwide pandemic, in order to inform and equip the Greek and Arab companies with the tools to properly and successfully approach the corresponding markets, reaffirming the commitment of the Arab-Hellenic Chamber to enhance the bilateral relations and increase the trade balance between Greece and the Arab world.
Sponsor: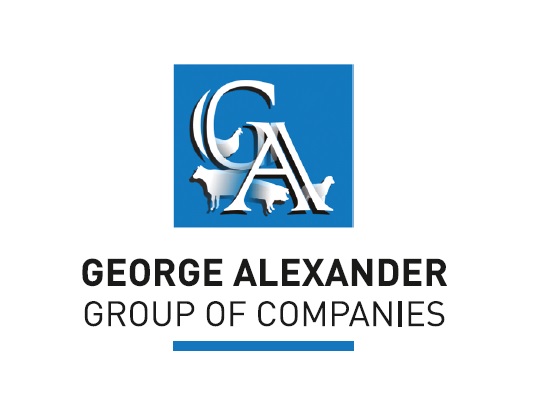 To download the presentation on Egypt, please CLICK HERE.
To download the presentation on Iraq, please CLICK HERE.