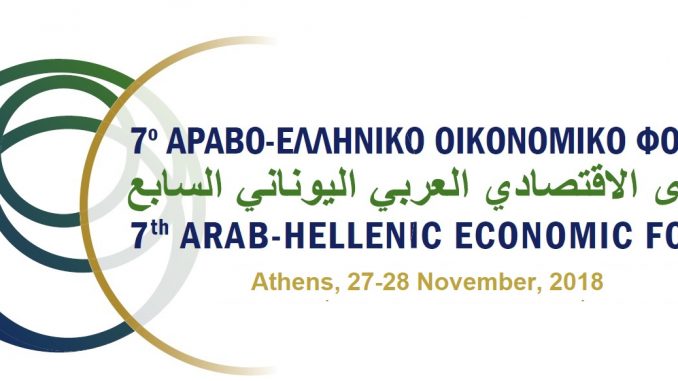 General Outlook:
The "7th Arab-Hellenic Economic Forum" will be convened in Athens, Greece, on 27-28 November 2018, under the title "Greece and the Arab World: A New Agenda for Growth". This Forum comes at a time of positive changes in Greece and the Arab world. Greece is successfully managing its exit from the economic crisis, anticipating a period of economic growth, while some Arab countries start emerging from a long period of instability and turmoil, moving towards reconstruction and modernization of their infrastructure. At the same time, other Arab countries are pursuing a strategy for diversification of resources in order to cope with the new economic trends. All these positive indications suggest a new agenda for the future cooperation between Arabs and Greeks, based on the transfer of technology and know-how from Greece to the Arab world.
This Forum will give priority to sectors of importance for both sides, in maritime, port industries, energy and construction, with the association of professional organizations in these sectors. We are also aiming at enlarging the Arab participation to include, this time, the Sultanate of Oman, Yemen, Somalia and Djibouti, with other Arab states in order to enrich the deliberations and networking in this Forum. The program will also include presentations and the success stories of start-up businesses and entrepreneurs from both sides, as well as direct business meetings between the Arab visiting delegates and their Greek counterparts in all sectors of interest.
Level of Participation:
Ministers and high-ranking Government officials, Arab Ambassadors, Presidents of Federations and Chambers of Commerce in the Arab world, top decision-makers and CEO's. There will be also professional high-ranking participation from the Maritime and Port industries and top executives in the construction and energy industries from both sides.
Speakers:
Ministers, CEO's and high-level Executives from Greece and the Arab world and young entrepreneurs from both sides.
Strategic Focal Points:
1. Maritime, Logistics and Container Handling
2. Port Industries and Services
3. Energy, Construction and Infrastructure projects
4. Success stories of start-up businesses
Venue:
Divani Caravel Hotel (5-star hotel) https://divanicaravelhotel.com/
Working Languages:
Greek and Arabic (with simultaneous interpreting)
Sponsorship and Support:
This Forum will be convened and sponsored by some Arab Federations and Chambers of Commerce, Chamber's company-members (Arab and Greek), with the support of professional organizations in the Forum's related sectors.
Media Coverage:
Greek official TV, Arab media (Al-Ahram and Al-Sharq Al-Awsat) and reporters of satellite TV channels operating in Greece.
Forum's Publications (in English language):
• Forum's Main Brochure
• Special Edition of the Members' Activities Newsletter
Organized by: Arab-Hellenic Chamber of Commerce and Development