The Arab Hellenic Chamber of Commerce & Development, targeting the external exposure of the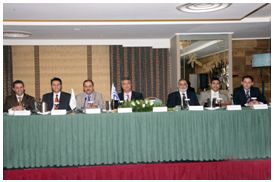 Greek Enterprises to the markets of the Arab world, will organize a One Day Work Shop titled «Doing Business & Investment in the GCC Countries» on Wednesday, 16/12/2009 at 10:00 – 14:30 hrs at the Divani Caravel Hotel – Ilissos Lounge.
 The Work Shop will aim at informing and presenting to the attendees the Business, Economic, \Investment and Commercial opportunities available in the GCC Countries (Saudi Arabia, Kuwait, Bahrain, UAE and Sultanate of Oman), advantages and means for processing cooperation between the Greek Businessmen and their counterparts in these very promising GCC countries:
The essential information mentioned about the GCC Countries will be the following:
● The commercial & economic situation, the investment climate, incentives and opportunities.
● The legal framework and its mechanism.
● The rapid development and the available business opportunities.
● The long term approach and guidance needed by the Greek Co. to enter the GCC markets.