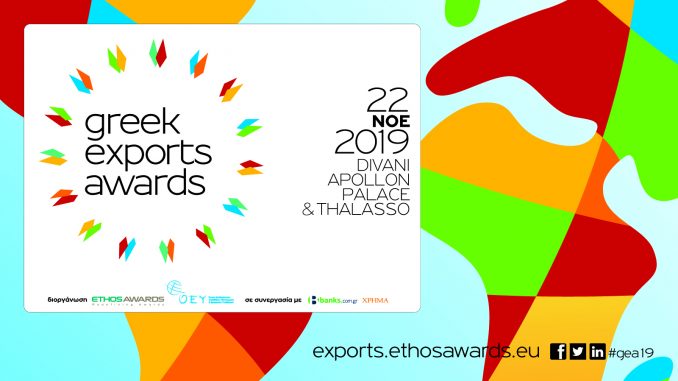 For the 8th consecutive year, the Union of Diplomatic Officers of Economic & Commercial Affairs (ENDY OEY) of the Ministry of Foreign Affairs in collaboration with Ethos Awards, the economic and business portal banks.com.gr and HRIMA magazine, organize the Greek Exports Awards 2019 (#gea19  http://exports.ethosawards.eu) with the objective to highlight and reward people, ideas and partnerships among the country's top exporting businesses. The Awards ceremony will take place on 22 November 2019 at Divani Apollon Palace & Thalasso hotel.
The multi-membered Judging Committee consists of prominent personalities from the institutional and business world as well as members of the public, who will vote separately to choose this year's Leaders of the exporting sector, through a total of 19 awards categories in 4 different thematic groups of exporting activities for 2019.
This year's Greek Exports Awards invite all businesses that have a powerful vision and business practices that go beyond Greek borders, to submit their nominations until 22 October 2019 at: https://www.ethosawards.eu/exports/register/candidate_add.php , choosing the categories that best correspond to their work and activities.
Deadline for submissions: Tuesday, 29 October 2019
For more information please contact:
Alexandra Papaspiliotopoulou, PR & Marketing Communications Manager, papaspiliotopoulou.a@ethosmedia.eu
D: (+30) 210 998 4917  M: (+30) 6945434064.