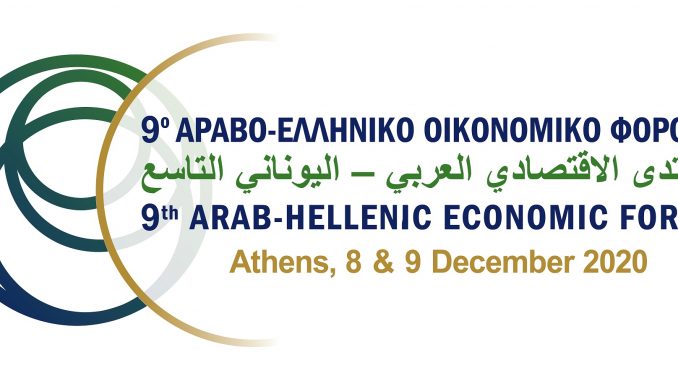 The Arab-Hellenic Chamber of Commerce and Development is pleased to announce that the works and deliberations of the "9th Arab-Hellenic Economic Forum" which, this year, was convened on 8th & 9th December in a digital format, ended with impressive success in terms of business participation from the Arab world and Greece, topics of discussion and the organization of virtual B2B meetings. The Forum's focal points touched upon relevant business sectors that are of interest and can be valuable for enhancing the cooperation between the two sides and opened future horizons and dimensions for Greek companies to expand their presence in the Arab world in a variety of sectors.
This year's Forum hosted Oman as Guest Country, dedicating a session to presenting Oman Vision 2040. The rest of the sessions touched upon cooperation on maritime and port industries between Greece and Egypt, and its future potential and the revival of small and medium-sized industries in the Arab world and the role of Greek companies in this regard. The first day's program finished with the presentation of Enterprise Greece and the potential of Greece's real estate sector.
The second day included two e-Roundtable Discussions presenting the potential of growing relations between Greece, Saudi Arabia and Palestine in food and pharmaceutical sectors, as well as the issue of digitalization and information technology in the public and private sectors.
This Forum presented 38 Speakers, Ministers and Government officials from both sides, as well as selected business leaders from Greece, Oman, Egypt, Saudi Arabia, Palestine, Jordan, Tunisia and Yemen. It is worth mentioning that their speeches, introductory notes and dialogue have created dynamic and lay down the foundation for future partnerships and enhancing the growing ties between Greece and the Arab world. The list of the speakers is attached, along with the program.
According to the information extracted by the 9th Forum's platform, 210 virtual B2B meetings were set up between representatives of Greek companies with their Arab counterparts.
The Arab – Hellenic Chamber avails itself on this occasion to express its appreciation to the organizations which contributed to the success of this event and to all sponsors, special contributors and supporters. In the coming few days, the recorded material will be available online.
© Arab – Hellenic Chamber of Commerce and Development
For the Speakers' Spread, please CLICK HERE.
For the Final Program, please CLICK HERE.