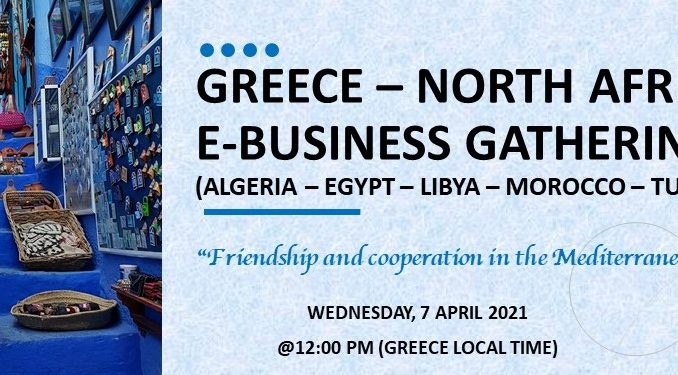 The Arab – Hellenic Chamber, in pursue of its efforts to diversify its events and activities and with the aim of providing communication channels between the Greek and Arab business community in order to strengthen their business relations in all areas, is pleased to announce the organization of online business meeting "Greece – N. Africa e-Business Gathering (Algeria – Egypt – Libya – Morocco – Tunisia): Friendship & Cooperation in the Mediterranean", on April 7, at 12:00 noon (Greek time ).
During the event, Greek businessmen, in addition to attending presentations and speeches aimed at informing them about the markets and opportunities offered by the five Arab countries of North Africa, will also have the opportunity to communicate via text messages (i.e. chatting) or video calling with participants that will be available online from the Arab countries in question and covering all business areas. The agenda can be found HERE for more information.
For the speeches, there will be simultaneous interpretation (in Greek and Arabic), while the networking between Greek and Arab participants will be in English or some other language of common understanding. It is noted that the speaking businessmen or their representatives as well as the Greek and Arab Economic and Commercial Counselors will be available for discussion and networking after the end of their sessions.
Greek participants can register by CLICKING HERE.
The Arab businessmen interested in participating can contact us at chamber@arabgreekchamber.gr