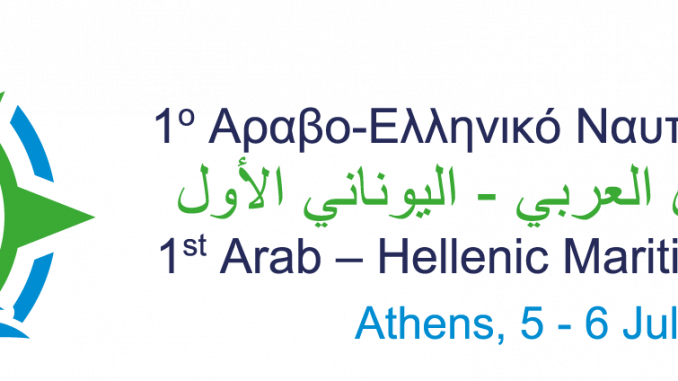 The Arab-Hellenic Chamber convened its "1st Arab-Hellenic Maritime Conference," on 5-6 July at the Athenaeum Intercontinental Hotel of Athens. This Conference represents another milestone in the efforts exerted by the Arab-Hellenic Chamber in creating new dynamics and interest in business domains that bring together Greek and Arab businessmen in order to pave the way for channels of communication, constructive dialogue, and new synergies.
Because of our extended database and the privilege of representing Arab Federations and Chambers of Commerce, we have managed, again, to gather on one platform important figures and CEOs, decision-makers, and stakeholders from across the Arab world as well as Greece. The high-level speakers included selected CEOs and key executives of well-known Arab and Greek corporations, organizations, and companies. The Conference's sessions reflected the carefully selected topics and were accompanied by extensive networking and meetings between the two sides.
The Conference was attended by CEOs and high-level representatives from 17 Arab countries and 70 corporations totaling over 110 participants. Equally, from the Greek side, approximately 120 shipowners, CEOs, and senior executives shared these two-days deliberations and meetings with their Arab counterparts.
The sequence of the program included the opening ceremony, followed by six sessions, in every one of which Greece was represented. The Arab countries were chosen by geographical order, starting with North Africa (Algeria, Mauritania, Tunisia, Egypt, and Libya), moving through North Mashriq Arab countries (Iraq, Jordan, Lebanon, Syria), and then to Gulf Arab states (Kuwait, Saudi Arabia, and Oman) concluding with Comoros, Somalia, and Yemen. This division of the sessions was designed in a way to evaluate the Greek presence therein and enhance the bilateral cooperation and partnerships in all the domains of maritime and port industries.
Apart from the main stage, the program included a special workshop on the "Belt and Road" initiative, attended by representatives from Greece, Egypt, Saudi Arabia, Oman, and others who showed interest in participating in this workshop. The evening dinner in honor of the visiting Arab delegations and Greek visitors was a celebration of a successful two-day maritime conference, a feast for the eyes and palate.
The Arab-Hellenic Chamber would like to thank the distinguished guests and attendees, the sponsors, and contributors to such a successful conference, and the organizations who granted their auspices. We, at the Arab-Hellenic Chamber, wish to establish a tradition and make this event an institution in Greek-Arab maritime relations. After all, the Conference successfully confirmed its motto: that there is a sea of opportunities between the two sides; all that is required is the will to transform them into a sea of partnerships.
For the list of speakers, please click here.