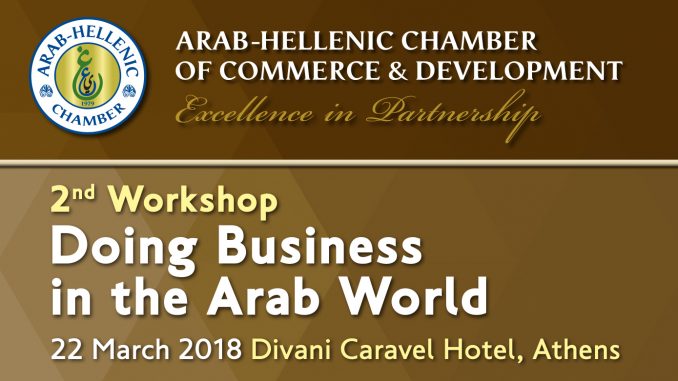 Following the success of the last year's Workshop on "Doing Business in the Arab World" and in an effort to develop, improve and enhance its positive aspects, the Arab-Hellenic Chamber is pleased to announce the convening of the 2nd Workshop on 22nd March 2018, at Divani Caravel Hotel of Athens.
The aim of this event is to augment entrepreneurship by further acquainting the Greek business community with the cultural characteristics that reign in the Arab world, and to present the investment and business opportunities available in the markets of the MENA region.
The first session, on "Culture of Business in the Arab World", includes speeches and presentations by Arab Ambassadors accredited to Greece, who will discuss the culture, ethics and traditions of their countries of origin and present business and investment opportunities.
The speakers of the second session, on "Business Opportunities in the Arab World", are Greek Commercial Counselors accredited to Arab countries as well as the former Undersecretary of the Ministry of Trade and Industry of Egypt, who will provide the audience with important and practical information regarding the regulations and procedures on the establishment of business in the Arab world and the ways of taking advantage of the available investment opportunities.
The sessions will be followed by B2B meetings between the Greek delegates and their Arab counterparts. The tentative lists of Arab participants include businessmen from Egypt, Iraq (Baghdad and Erbil), Lebanon, Saudi Arabia, Syria and Yemen.
The detailed program of the Workshop can be downloaded HERE as well as the Participation Form which, the interested parties, are kindly requested to fill in and return to us at their earliest convenience.
DEADLINE FOR SUBMISSION OF APPLICATIONS:
FRIDAY, 16 MARCH 2018, 16:00