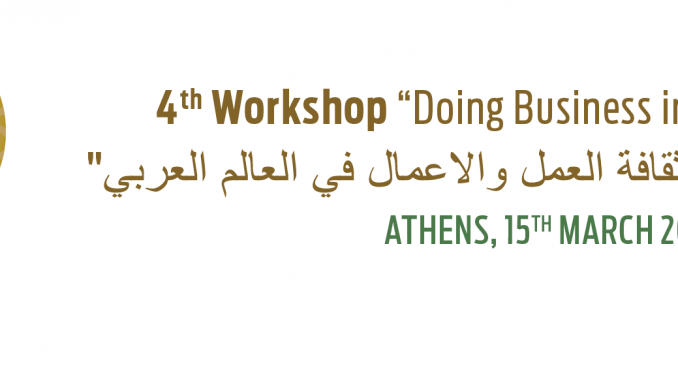 The Arab-Hellenic Chamber is pleased to announce the convening of the 4th Workshop "Doing Business in the Arab World" on March 15th at the Divani Caravel Hotel of Athens.
This event is particularly popular among the Greek business community, as it offers information from those in charge of the Arab markets. The representatives of small and medium enterprises will have the opportunity to receive first-hand information from the Greek Commercial Attaches accredited to the Arab world, and/or their counterparts in the Arab Embassies in Greece. Countries represented are Mauritania, Morocco, Algeria, Tunisia, Libya, Egypt, Sudan, Saudi Arabia, Kuwait, Qatar, United Arab Emirates, Oman, Palestine, Syria, Jordan and Iraq.
The program also includes speeches by experts on the special characteristics and the culture that accompanies doing business in the Arab world, as well as Greek businessmen who will share their experiences from Arab countries.
After the sessions, the participants will have the opportunity for B2B meetings with the speakers, as well as the visiting Arab businessmen.
This is an essential workshop for those interested in penetrating the Arab markets or expanding their presence in the area.
For the draft program, please CLICK HERE
For the speakers' spread, CLICK HERE.
For the participation form (for businessmen in Greece ONLY), please CLICK HERE.
DEADLINE: FRIDAY 10 MARCH 2023
Visiting businessmen from the Arab world are requested to contact us at chamber@arabgreekchamber.gr or visit the Arabic version.