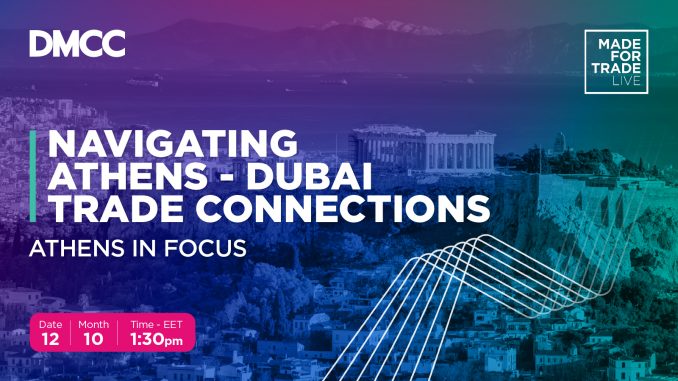 Dear Valued Client,
Discover how to grow your business globally.
Set up your business in Dubai – the global hub for innovation, growth, and trade.
Join us on 12 October 2023 at Made For Trade Live – Athens in Focus, held in partnership with the Embassy of the United Arab Emirates in Athens, Arab-Hellenic Chamber of Commerce & Development, Athens Chamber of Commerce & Industry, and SEV Hellenic Federation of Enterprises to find out why DMCC in Dubai is the ideal place to run and grow your business.
Home to 23,000+ member companies ranging from multinational corporations to start-ups – DMCC offers easy access to key global markets, industry-specific ecosystems, world-class infrastructure, and exclusive networking events to support your goals.

In partnership with:
Executive Chairman and
Chief Executive Officer
DMCC
H.E. SULAIMAN HAMED
SALEM ALMAZROUI
UAE Ambassador to
the Hellenic Republic
SOFIA KOUNENAKI
EFRAIMOGLOU
President
Athens Chamber of Commerce & Industry
Explore the key benefits of setting up a business in Dubai
Discover the advantages of choosing DMCC as your business hub
Learn more about our thriving community of 23,000+ business members
Ask questions and get practical advice on company set up from DMCC experts
Register to get advice from our business experts and explore the benefits of setting up in DMCC, as well as learn about Dubai's attractive tax policies, lifestyle and business opportunities that will help you establish your business.
Date: Thursday, 12 October 2023
Time: 1:30PM – 4:00PM EET
Location: 6th floor, Athens Chamber of Commerce & Industry,
7 – 9 Acadimias street, 10671 Athens, Greece
DMCC, Jumeirah Lakes Towers, Dubai, P.O. Box 48800, UAE, +971 4 424 9600