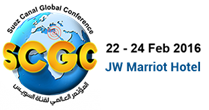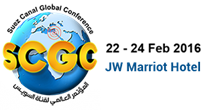 The "Suez Canal Global Conference" will take place from 22-24 February 2016 in Cairo, Egypt, under the High Patronage of His Excellency Abdel-Fattah El-Sisi, President of Egypt. In addition, at this conference, laws frame applied to the new Suez Canal will be mentioned.
If interested, please fill in the application form, send it to email: info@suezcanalconf.com and if any further information is needed you can contact the herewith below contact information referring to the conference. You can download the relevant documents HERE.
Dr. Hatem Abdel Gawad, Chief Economic Researcher Planning, Research & Studies Dept.
Suez Canal Authority
Tel. +2 064 3392475, Fax. +2 0643392866. Mob. +2 01022969598
Email. scgc@suezcanalconf.com, hatemgawad@suezcanal.gov.eg
In addition, you can find information regarding the Egyptian projects available opportunities for foreign investment in the sectors of logistics and industry in the New Suez Canal HERE.