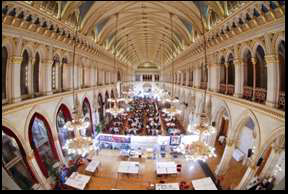 INVITATION 
|8th Arab-Austrian Economic Forum
& Exhibition|
25 November 2016
Park Hyatt Hotel
Am Hof 2, 1010 Vienna
The AACC has the pleasure to invite you to attend the
8th Arab-Austrian Economic Forum
on OIL AND GAS
The Future of Fossil Energy
and the rising renewable alternatives
&
Exhibition
of Arab Countries and
selected companies and products
25. November 2016
Park Hyatt Hotel,  Vienna
The Future of Fossil Energy
The fluctuation of the Oil price has a major impact on the economies of the oil exporting countries. It has a core influence on the Industry's structure and thus affects international trade substantially. In addition the use of various kinds of alternative renewable energies is on the rise, which also affects the demand on fossil energy.
The Arabic countries are not only a source of fossil energy, but also have great resources of sun and wind for renewable energies. In some countries huge projects are already planned, and there  still is a great potential for alternative technologies and innovations.
This forum aims to outline:
– challenges, developments and forecast of the future of fossil energy and to present innovative methods and technologies for boosting the related production profitability.
– the forecast for the alternative renewable energies and possible new resources.
– Challenges in the production and consumption of energy and electricity and related innovations as well as new technologies to optimize problems during peak hours of consumption.
Exhibition & Networking
Display of companies, enterprises and international institutions in various fields together with the diplomatic representations of Arab countries in Austria, allowing for special opportunities to meet with the business community and establish personal contacts.
AGENDA – Friday, – 25.11.2016
EXHIBITION
09:30 – 17:00
FORUM
10:00 – 11:00 Opening Session
11:00 – 12:30 Session 1:  Oil price fluctuation, challenges and opportunities
– Impact of oil Prices on the oil Industry
– Economic challenges
– Measures to raise performance & profitability
– Forecast for the future
12:30 – 14:00 Lunch
14:00 – 15:15 Session 2: Energy & electricity production & consumption
– Actual challenges of the sector
– Optimization of Energy Consumption
– Innovative methods and new technologies
15:15 – 15:30 Coffee break
15:30 –  17:00 Session 3: Renewable and alternative energies
– Innovations in renewable energies
– Arab initiatives in alternative energies
– Potential implementation in Arab countries
– Mutual cooperation possibilities
PARTNERS & INSTITUTIONS
General Union of Arab Chambers of Commerce, Industry & Agriculture
European Union (EU)
Arab League
Gulf Cooperation Council (GCC)
Arab Embassies in Austria / Council of Arab Ambassadors in Austria
OMV
European-Mediterranean Assemblies for Energy, Environment and Water
Austrian Institute for Europe and Security Policy (AIES)
Political Academy (PolAk)
Austrian Federal Economic Chamber (WKO)
Arab Oil Ministries & Under Secretaries
National Oil Companies & Affiliates
Oil, Gas and Energy Companies
Others
Tentative PERSONALITIES
Senator Richard Schenz, President, AACC
H.E. Mr. Adnan Kassar, President, Federation of Lebanese CC&I
H.E. Minister Khalid al-Falih, Ministry of Petroleum and Mineral Resources, Saudi-Arabia
H.E. Minister Mr. Noureddine Boutarfa, Oil and Energy Minister Algeria
H.E. Minister Adil Abd Al-Mahdi, Oil and Energy Minister Iraq
H.E. Minister Dr. Mohamed Zayed Awad, Oil and Gas Minister Sudan
H.E. Mr. Gerhard Schröder, Former German Chancellor
H.E. Dr. Erhard Busek, Former Austrian Federal Vice Chancellor
H.E. Dr. Werner Fasslabend, President of the AIES, Former Austrian Federal Minister of Defence
H.E. Mr. Saeed Saleh Saeed Al Kiyumi, Chairman of Oman Chamber of Commerce and Industry
H.E. Mr. Jaafar Rasoul AL-HAMADANI / President, Federation of Iraqi Chambers of Commerce
Dr. Reiner Seele, Director General OMV
Prof. Stefan Schennach, Member of the Austrian Federal Council; President of the EUROMED /the Parliamentarian Euromediteranian Assemblies for Energy, Environment and Water
H.E. Mr. Abdullah Sultan Al Owais, President of Sharjah Chamber of Commerce & Industry
H.E. Senator Issa Haidar Murad, President of Amman Chamber of Commerce
H.E. Dr. Khalid Al Hajri, Chairman and CEO, Qatar Solar Technologies
N.N. Arab Ministers of Oil
PARTICIPATION AS VISITOR:
The event is open to interested visitors free of charge. Registration is required to headoffice@aacc.at.
PARTICIPATION AS EXHIBITOR / SPONSOR:
For detailed information contact us by phone +43 1 513 39 65, or email to mailto:headoffice@aacc.at.
We are looking forward to welcoming you to this event!
With kind regards,
The Austro-Arab Chamber of Commerce (AACC)
For more information, please click
HERE
.