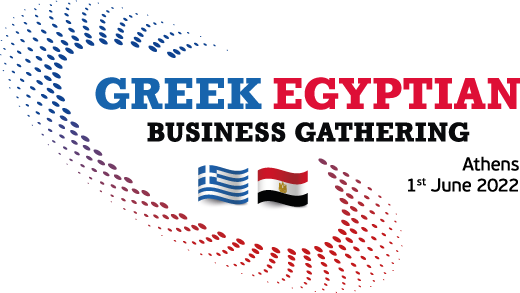 On June 1st, the Arab-Hellenic Chamber concluded the "Greek – Egyptian Business Gathering" that was convened at the Divani Caravel Hotel of Athens. The event was attended by 55 Egyptian businessmen representing various sectors and 75 representatives of Greek companies who shared the event's sessions and deliberations and concluded with the two sides' B2B meetings.
The opening ceremony was introduced by Rashad Mabger, the Secretary General of the Arab-Hellenic Chamber of Commerce & Development (AHCCD), followed by a speech by Harris Geronikolas, Chairman of the Board of Directors, AHCCD, and Suheil H. Sabbagh, President, Group HR, Consolidated Contractors Co. (CCC) and Chairman, Hassib Sabbagh Foundation and Vice President of AHCCD. We were honored with the presence of Ismail Khairat, Ambassador of the Arab Republic of Egypt, and George Amiras, Greek Deputy Minister of Environment & Energy, both of whom touched upon, in their keynote speeches, the high-level cooperation between Greece and Egypt and the excellent relations the two countries enjoy.
The first session, which dealt with the two Greece and Egypt's electrical interconnectivity and their experience in sustainable energy, opened with a keynote address by Alexandra Sdoukou, Secretary General for Energy and Mineral Resources at the Greek Ministry of Environment & Energy, who elaborated on the extent of the projects between the two countries and the potential of the private sectors to get involved. The moderator, Ilias Savvakis, Director of Operational Development, DEDA S.A., Lecturer, University of Piraeus, and Board Member of the Arab-Hellenic Chamber, gave the floor to each speaker, Omar Foda, Corporate Investment Director of El Sewedy Conglomerate Group, Egypt, Dr. Spyros J. Kiartzis, Manager New Technologies & Alternative Energy Sources at Hellenic Petroleum Holdings S.A., Greece, Ahmed Ramadan, CEO, Power Generation Engineering & Services Co (PGESCo), Egypt and Dr. Ing. George Pechlivanoglou, Chief Business Development Officer, Eunice Energy Group, Greece, each of whom presented their companies' experience and potential; the session was followed by a closed-door roundtable discussion between the speakers and other interested participants for intensive networking between all concerned parties and sectors.
The second session, which focused on maritime and related industries, opened with a keynote address by Giannis Plakiotakis, Greek Minister of Maritime & Insular Policy. Coordinated by George Xiradakis, Founder – Managing Director, XRTC Business Consultants, Greece, speakers Eng. Medhat Hatim El Kady, Chairman, Egyptian International Freight Forwarding & Logistics Association (EIFFA) and Board Member, Alexandria Chamber of Shipping and CEO, Kadmar Group, Egypt, Damianos Efthymiadis, Business Development Director, Archirodon Group, Greece, Dr. Sara Algazzar, Dean, College of International Transportation & Logistics, Arab Academy for Science, Technology and Maritime Transport (AASTMT), Egypt, Dr. Orestis Schinas, Partner HHX. blue and Permanent Representative to the IMO-Union of Comoros and Abdelaal ElSayed, Managing Director, SGS Egypt, all took their turn in presenting their companies and organizations, setting the foundations for further exploration of bilateral business and investment opportunities in the sectors of shipping, port industries, and logistics.
The third session, approaching the issue of food security via the two countries' food industry, fish farming, and organic foods, was moderated by Dr. Saleh S. Jallad, Financial Consultant, Consolidated Contractors Company (CCC), & Publisher of Middle East Economic Survey (MEES) & Board Member of AHCCD. Dr. Jallad allowed the speakers, Eng. Sameh Moustafa Zaki, Vice President, Cairo Chamber of Commerce, Sandros Th. Charalampopoulos, New Business Development Manager, Mediterra S.A_mastihashop, Greece, Hatem El Saady Mahmoud Abdel Ghaffar, Chairman, Kafr El Shiekh Chamber of Commerce and Board Member of the Federation of Egyptian Chambers, Egypt, and Andreas Ntatsopoulos, Biologist and Fish Farming Consultant, Greece, to present their positions on the issue from their own perspective, undertaking a united stance in the fight against global food unavailability.
The fourth was a special session that presented the current status of investment between Greece and Egypt and the opportunities presented by each country. Dr. Thaleia Emiri, Hellenic Republic Asset Fund (HRAF) BoD Member, Senior Legal Counsel, Of-Counsel HBA, Greece, Christos Cavallis, President of the Greek Community of Cairo, Egypt and Aref Boualwan, Chief Initiatives and Startups Officer at Consolidated Contractors Company (CCC), had an interesting discussion with the moderator, Rashad Mabger, Secretary General of the Arab-Hellenic Chamber, on the investment and business relations between the two countries from a historical point of view, past and future.
The sessions were followed by B2B meetings for those who did not have the chance to meet their counterparts beforehand during the networking sessions, leading up to the dinner party. Dinner started with a welcome speech by Harris Geronikolas, President of the Arab-Hellenic Chamber, followed by the Keynote Addresses by Ismail Khairat, the Egyptian Ambassador, and Maria Louiza Marinakis, Ambassador, Director General for International Economic Relations, who represented the Greek Minister of Foreign Affairs. With the presence of Ekaterini Sofianou, Archondissa and Ambassador of the Greek Diaspora of the Patriarchate of Alexandria and All Africa as well as other high-ranking personalities, dinner was an occasion for a pleasant exchange of views among the visiting businessmen and the Greek guests.
The Arab-Hellenic Chamber would like to thank all the sponsors of this event, the organizations which granted their auspices, and all its members for their continuous support.