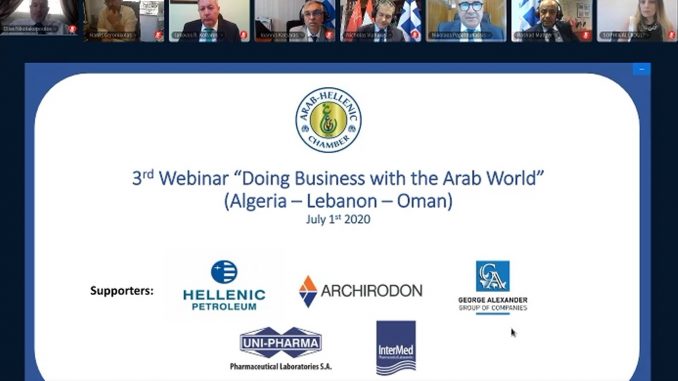 On July 1st, the 3rd Webinar on "Doing Business with the Arab World" (Algeria – Lebanon – Oman) concluded successfully its works with the participation of 48 representatives of Greek companies. In this webinar, the guest of honour, Mr. Nikos Papathanasis, Deputy Minister for Development and Investment, delivered a speech, followed by the Chamber's President, Harris Geronikolas, and the introduction by the Secretary General, Rashad Mabger.
Mr. Nickolas Vlahakis, CEO of NEOKEM and BD Member of our Chamber, was once more the moderator of this webinar, who introduced the two Heads of the Offices for Economic and Commercial Affairs at the Embassies of Greece in Algeria and Lebanon, Messrs. Ioannis Katsaras and Iakovos Rafael Kollaros, respectively, as well as the Honorary Consul of Greece at the Sultanate of Oman, Dr. Elias Nikolakopoulos. The speakers presented the opportunities and potentials of the three markets, they outlined sectors of interest for Greek businesses to increase their trade volume and tackled, as well, information relevant to future economic and commercial trends in these countries. Additionally, our member-company SGS Greece, through their Sales Consultant, Mrs. Sophia Alexouli, presented information with regard to certifications and commercial documentations required for exports to certain Arab countries, in compliance with the national and international standards.
In this webinar, we were pleased by the participation of the representative of B03 Directorate for Bilateral Economic Relations with N. African, Middle Eastern and Gulf countries of the Greek MFA, and Mrs. Amira Saoussen Aouachria – Zemoura, the Chargé d'Affaires at the Embassy of the People's Democratic Republic of Algeria.
We would like to seize this opportunity to express our sincere appreciation to H.E. Nikos Papathanassis, for the speech he delivered during our online seminar, praising the role of the Arab-Hellenic Chamber in enhancing the Arab-Greek relations. We would also like to thank our member-companies who have come forward in supporting our events. We look forward, in the coming days, to hosting another webinar presenting the markets of Qatar and Jordan.